Today is the 8′th anniversary of losing my mother, Margaret.
A part of my mom is literally nestled in the Red Rocks of Sedona on the hillside near this famous church designed by Frank Lloyd Wright .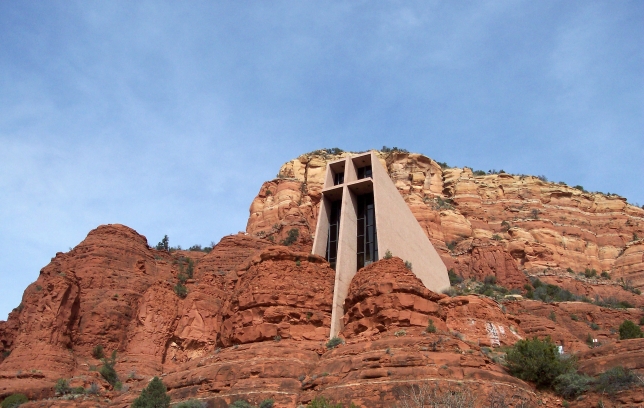 We had spent a magical weekend near here attending a breastfeeding conference in late July 2002. Three weeks later she would be dead.
Mom was my breastfeeding role model and had inspired my passion for helping mothers that led me to become a lactation consultant. She was very proud of having breastfed five children without any support save for the encouragement of my father.
Our last trip to Sedona  had come during a difficult time for mom. She had made the very painful decision to put my father in the assisted living facility that they had agreed upon when she was no longer able to care for him by herself.  Without him as her co-pilot, she had not ventured far from home for several months.   She was having health challenges of her own, but remarked on how liberated she felt to be on the road again.
We were like an inter-generational Thelma and Louise.  Indeed, mom drove us at a fast and furious clip from their home outside Phoenix to Sedona as if she knew her days were numbered.  During that road trip we had a ton of fun and I was able to thank her for being my mother.
Three weeks later, I would be flying back to Arizona to be with her as she left this world. It was a very profound experience that lingers with me to this day.  Both of us were nurses, and now it was my turn to take care of her. Incredibly, as she prepared to let go of this life, she told me to write my book and carry on my work.  I laughed saying, "From your lips to God's ears."
Somehow the gift of that quality time together in those last weeks has sustained me all these years. I did go on to write my book and have continued as a passionate advocate for breastfeeding mothers.
Breastfeeding was the alpha and omega of our mother-daughter connection.  It fostered an even deeper closeness between us as adult women coming full circle in those final moments of her life.
Thank you for breastfeeding me mom…that bond endures in my heart to this day.
Breastfeeding Awareness Month 2010 has found its way into the news cycle.
The media and many blogs have taken up the mantle to feature breastfeeding on a regular basis throughout this month.  Sadly, their focus has not been on the theme of  promoting, protecting and supporting it through the Ten Steps.
Controversy turns out  far more sexy content.  Supermodel Gisele Bundchen's comment that there should be a law that mothers breastfeed for 6 months, like her, most definitely has long legs.
Not to be left out of the mix, Bethenny Frankel, the reality tv personality from Bethenny Gets Married, has now added her two cents to the fray.  She has apparently told US weekly,  "It's the most absurd thing I've ever heard."   A breastfeeding mother herself, she added this politically correct disclaimer.  "Breastfeeding is one of the most rewarding experiences, but it isn't for everyone."
Ironically, The Dish Rag blog used these two women as examples of why it takes money and a staff to breastfeed.  How ridiculous.  One of its selling points is that breastfeeding is much less expensive.   Gisele and Bethenny may live in a more luxurious fashion but that has little to do with their being able to breastfeed.   The dish rag author has chosen to ignore the very real cost of not breastfeeding.
A dad in my prenatal breastfeeding class had taken notice of all the buzz around this topic.  He felt that most of the furor was being voiced by those who had challenges with breastfeeding, or those who had chosen not to breastfeed.  He shared that he thought it was just a personal opinion and one most likely taken out of context for effect.  He didn't really get all the fuss.
I tend to agree with him.  Gisele and Bethenny are both in the public eye.  They are both vocal new mothers who represent aspects of a modern breastfeeding experience.
We need to focus less on the semantics.  Rather than "milking" such a trumped up controversy to get  negative attention, we  need to be facilitating breastfeeding success.  That's a model that should be copied!
What do you think?
It's World Breastfeeding Week 2010. Today, on day 4, the midway point of the 19′th annual celebration, breastfeeding was a hot topic on The View in more ways than one.
Super model Gisele Bundchen has made tongues wag by talking about the importance of breastfeeding in the first months of a child's life. "Some people (in the US) think they don't have to breastfeed, and I think, 'Are you going to give chemical food to your child when they are so little?'" Bundchen says in the magazine's September issue. In that interview she did with the UK edition of Harpers Bazaar, she called for a worldwide law requiring all mothers to breastfeed for 6 months.
Giselle had a home birth and has a diaper free baby. She is expanding beyond lingerie to become a breastfeeding role model. She ignited a furor with her comments, but they were not intended to offend, but rather to inspire other new mothers in their quest to do the very best for their babies. I admire her passion and how she models a conscious breastfeeding lifestyle.
Clearly, she has hit a nerve as evidenced by this clip from The View. What do you think?
This is the 19′th annual celebration of World Breastfeeding Week.  The Theme of 2010 is commemorating the Innocenti Declaration made by WHO and UNICEF policy-makers in August 1990 to protect, promote and support breastfeeding.
In the past 20 years there has been some progress in the rates of  initiation of breastfeeding.  Yet, only 28% of Maternity facilities world-wide have fully implemented the Ten Steps and have been certified by the Baby Friendly Hospital Initiative.  Were this an analysis of anything else, this would not be a passing grade.
 I've been in the trenches throughout this period and beyond.  At first glance, it appears as though we have made great strides.   According to the NYC Dept. of  Health and Mental Hygiene report put out in April 2009,  an impressive 85%  of women initiate breastfeeding.  However, after 2 months the number falls to 32% who are still exclusively breastfeeding their babies.  Surveys reveal that the top two reasons for stopping were related to concerns about the milk supply either having enough (39%) or that it was adequately satisfying their babies (39%).
The fall off rate here in NYC is quite dramatic, but not surprising to me.  Despite health code regulations that prohibit formula discharge packs, many families will leave the hospital with generous samples of formula in tow.  Mothers who have had cesarean sections report that their babies were given at least one bottle, if not more, of formula during the first few days after delivery.  
Many of the New York hospitals have lactation consultants on staff or nurses "trained" to support breastfeeding.  Nonetheless, their focus seems to increasingly be on feeding a measurable amount of fluid to the newborns.  They get  moms to sit on the pump getting drops of colostrum and encourage them to give their babies formula until the "milk comes in". 
 Using the pump as a  first line of breastfeeding support relegates direct breastfeeding to the back seat.  New mothers leave the hospital knowing how to pump rather than how to achieve a deep, pain-free latch.
New parents are set up to believe that artificial baby milk or formula and human milk can be exchanged ounce for ounce in bottles without consequence .  Unwittingly they are weaning from the beginning or setting themselves up to experience the top two reasons many of them will choose not to breastfeed beyond two months.
Without a doubt, the Ten Steps are a helpful tool to focus our attention on the importance of consistent breastfeeding education and support.
To pack a punch and ensure successful breastfeeding beyond the first few weeks, the Ten Steps must be embraced by unequivocal  and truly breastfeeding-friendly health care workers:  nurses, doctors and lactation consultants. 
To be continued…
One of the items I recommend to moms for their Conscious Breastfeeding tool-box is a journal. 
I am one of the Kodak generation.  In large families, the  number of photos taken of you were often a function  of where you fell in the line of children.  The moments of our babyhood were not nearly as well catalogued as those of modern babies. Thanks to the digital revolution, the potential exists that every detail of their lives will be captured in vivid detail.
A hard-copy memoir of your time as a breastfeeding mother should be part of the time capsule of your baby's life.  It will give them insight and understanding into your life as a mother, wife, partner,worker and of their development as a unique individual.
It is remarkably revealing to read my mother's letters written, in her own hand, to my father before they were married.  Those were the days when people really wrote letters.  Separated by an ocean and without the luxury of cheap phone calls, those missives were their only means of communication.  There, in my mother's handwriting, I am able to read of how much she was looking forward to having her first baby.  She hoped it would be a girl and was right; I was born the following year.  I wish that the trail didn't end there.  I would love to know how she felt in those early days as a wife and mother raising me in a new country.
We have all heard of how having a baby seems to alter our ability to remember things.  Your journal will ensure that those precious memories will never fade.
Although it could be kept in a digital form. I recommend that mothers do this the old-fashioned way. 
On the most practical level, you will observe the patterns of your babies life.  You will be looking at feedings and how the breastfeeding is unfolding.  Knowing when and how well feedings are going will give you information to help you optimize your breastfeeding experience.
1. Pick a notebook, album, scrapbook that is beautiful and durable.  You will be filling this with your memories of this time in your life.  It will be a window into how you were growing and feeling as a mother and of the changes you observed in your breastfeeding baby.
2. It might be a great practice to begin writing a note or letter to your baby on a regular basis.  The art of writing can connect us more deeply with our creative, authentic selves.   
3. Take tons of photos of course.  Print some and include them in the pages.  Cut out photos that appeal to you in magazines and periodicals.   You will be creating a sort of vision board for your life as a mother as you document the memories of  breastfeeding your baby .
4. Include inspirational quotes and what you are grateful for on a daily basis.  You will be able to expand upon these ideas as your child grows up.
5. Include calendars and and document important occasions that were experienced during this time.   
6. Include locks of hair, etc. as the mood strikes.  Audio and video (cd/dvd) can be added to supplement the written word. 
Your breastfeeding journal can be so much more than just a way of managing and gaining  insight into your breastfeeding experience.   It can be an opportunity to engage in a creative expression of your life with your baby.  It will capture your  unique handwriting, thoughts and memories for posterity. 
It will serve as a legacy- a time capsule item to share with  future generations of your family. 
Such provenance is priceless!