Today is the 8′th anniversary of losing my mother, Margaret.
A part of my mom is literally nestled in the Red Rocks of Sedona on the hillside near this famous church designed by Frank Lloyd Wright .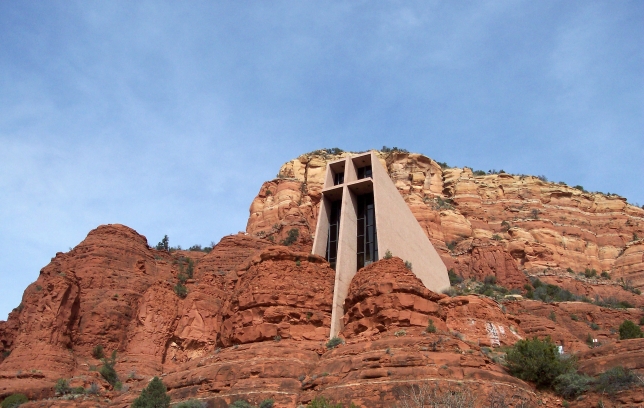 We had spent a magical weekend near here attending a breastfeeding conference in late July 2002. Three weeks later she would be dead.
Mom was my breastfeeding role model and had inspired my passion for helping mothers that led me to become a lactation consultant. She was very proud of having breastfed five children without any support save for the encouragement of my father.
Our last trip to Sedona  had come during a difficult time for mom. She had made the very painful decision to put my father in the assisted living facility that they had agreed upon when she was no longer able to care for him by herself.  Without him as her co-pilot, she had not ventured far from home for several months.   She was having health challenges of her own, but remarked on how liberated she felt to be on the road again.
We were like an inter-generational Thelma and Louise.  Indeed, mom drove us at a fast and furious clip from their home outside Phoenix to Sedona as if she knew her days were numbered.  During that road trip we had a ton of fun and I was able to thank her for being my mother.
Three weeks later, I would be flying back to Arizona to be with her as she left this world. It was a very profound experience that lingers with me to this day.  Both of us were nurses, and now it was my turn to take care of her. Incredibly, as she prepared to let go of this life, she told me to write my book and carry on my work.  I laughed saying, "From your lips to God's ears."
Somehow the gift of that quality time together in those last weeks has sustained me all these years. I did go on to write my book and have continued as a passionate advocate for breastfeeding mothers.
Breastfeeding was the alpha and omega of our mother-daughter connection.  It fostered an even deeper closeness between us as adult women coming full circle in those final moments of her life.
Thank you for breastfeeding me mom…that bond endures in my heart to this day.
.
It was a hot day like today when I was last at the famous Zen Rock Garden of the Ryoan-ji Temple  in Kyoto, Japan.   It was a very still and peaceful place, save for the other tourist moving about and inserting herself into my photo.
I sat at the edge and contemplated my breath while gazing  at the gently raked rock garden gleaming brightly in the heat of the day.
I am often reminded of this feeling when I am in the presence of a Conscious Breastfeeding mother and baby.  There is a stillness that descends upon the nursing couple.  A rhythmic sound of breathing and soft swallowing comes from the baby while it is feeding.  The mom looks serene and comfortable as she is very much in the moment.
In this fast paced world in which we live, each breastfeeding session offers an opportunity to become centered and quiet.  A mother can connect deeply with her baby, both literally and figuratively.  She is sharing her physical and emotional space, as well as her milk, with him or her during this time.
The sales pitch for breastfeeding is that it can be done on the go- anytime, anywhere.  Although this may be true, I strongly encourage moms to explore the benefits of  a more zen experience.
A Conscious Breastfeeding mom creates a sacred space in her home where she is able to focus fully on breastfeeding her baby.  Ideally she will be using a high-backed chair.   Seated with both shoulders resting against the chair, she will draw her baby deeply onto her breast for a pain-free latch.  A secondary benefit of  her good  posture is that she will be facilitatating a sense of comfort and calm in both herself and her baby.  Feedings done this way become a form of zazen, or sitting meditation.
In Zen Begin, Live Your Life the Zen Way, this Zen-Meditation is explained…
Zen is all about focus. Meditation or zazen is an exercise in creating a one- pointedness of mind. The comparison with muddy water is often made. In calm water the mud sinks to the bottom and the water becomes clear.
A Conscious Breastfeeding mom puts her baby to her breast in an intentional manner; she maintains a calm pose and deep rhythmic breathing throughout each feeding session.   As a result, she and her baby come away feeling rested and fortified.  The baby will be in quiet alert and receptive to socialization and interaction with her and other family members; mom's mind will be more clear and focused.
This mother and child statue was at the edge of a hot spring in the Japanese Alps.   May she inspire you to embrace the the Zen of Conscious Breastfeeding.
What has been your experience of this special breastfeeding time with your baby?
I spend a lot of time at my local Starbucks. It is a very spacious, well-appointed location on the upper westside of New York City which attracts a diverse crowd from all walks of life. It is a common meeting place for many who live in, or are passing through, my neighborhood. On any given day there are various business people, artists, writers, moms with babies or children, students and tourists conducting business or socializing within my Starbucks.
I particularily liked the Starbucks "The Way I See It" cups from a few years ago.  They featured inspirational or thought provoking quotes to add a jolt to the java.
.


"In my career I"ve found that 'thinking outside the box' works better if I know what's 'inside the box.' In music (as in life) we need to understnad our pertinent history…and moving on is so much easier when we know where we've been."

~Dave Grusin, Award winning composer & jazz musician
Starbucks has become my incubator where I research, hatch, and often demo, my conscious breastfeeding marketing ideas. I strike up conversations with fellow bloggers, tech-savvy guys, other self-employed regulars, or virtually any friendly soul I meet on line or seated near me. Invariably they are curious and intrigued by the "business of lactation". We open a dialogue where "Isn't it natural?" is a common question. Many of them share with me some of their own personal breastfeeding stories or those of their relations or co-workers.
These coffee "klatches" are a fun way to do research and marketing. I get a pulse on what the locals and tourists are currently thinking about breastfeeding. I can plant seeds or add a different point of view that may empower a current or prospective breastfeeding family. What I learn from these encounters become the fodder for future articles, blog posts and are woven in as anecdotes during my breastfeeding classes. They ultimately become user, or potential user, generated content.
So I invite you to think outside the box on your next trip to Starbucks and view it as a marketing opportunity.
In the Celtic calendar, 5.01, May Day, marks the mid way point between the Spring Equinox and Summer Solstice.  According to Selena Fox  in her 1997 workshop "…it is a time of divination and communion with Fairy Folk/Nature Spirits."
May Day started for me with a tearful message left on my answering service.  This "Mayday call" signaled the distress of yet another new mother and the imminent end of her breastfeeding journey.  In spite of having hired several lactation experts, she had never had a successful latch until she had worked with me on the previous day.  Her confidence had been shaken by weeks of frustration and lack of progress.  She had been pumping and using gadgets (nipple shield, SNS) since her daughter's birth and was discouraged from thinking she would ever be a successful breastfeeding mother.  She now knew it was possible.  However, she was truly at her wits end because she could not replicate the latch on her own. 
This mom, baby and her husband had embraced the principles of Conscious Breastfeeding but the habits of several weeks were hard to change overnight.  A lot of tears were shed.  Patience and consistency were required to teach her daughter the skill of breastfeeding.  Invoking my inner Irish and the energy of the day, we worked together as a team to rebuild this mom's confidence and establish new Conscious Breastfeeding Connections.
May Day ended with a very different call from this now joyful breastfeeding mom.   With a nod to the Fairy Folk, the magical alchemy of nature, nurture and our combined intention had brought success.