Almost Wordless Wednesday…
I am digitizing over 25+ years of memories.  Today I came across one of my favorite thank-you cards.   The layers of meaning were not lost upon this mother, or me, her lactation consultant.   Tongue-in-cheek, but so powerful.  Her cups, her breasts and both of our hearts runneth over.
There are so  many challenges that face modern breastfeeding mothers; quality lactation support can make such a profound difference.
Your successes are what keep us going.  We are here to assist you.  Getting "feed"-back from families is priceless for those of us who have dedicated our lives to protecting and supporting breastfeeding!
Your positive stories and comments are welcome here.  And…
Don't forget to let your IBCLC know she/he made a difference for you!
March 7. 2012 is World IBCLC Day
I have decided to join Connie Ragen Green's 21 Day Productivity Challenge leading up to this occasion. It will give me an opportunity to review how I can better serve and foster conscious breastfeeding connections here on the blog and through The Breastfeeding Salon.
Teaching prenatal classes and coaching mothers after they have begun to breastfeed has been my passion for more than a quarter century. Sadly, breastfeeding remains a challenge for many modern moms, despite the ever increasing number of lactation consultants. Ironically, for many of these new mothers, their "productivity" is often at issue.
It takes approximately 21 days to install a new habit or change a mindset. Thus, I am doing this challenge with high hopes for my online/offline business makeover. What makes it even more powerful for me is the awareness that this is the same timeline during which a pregnant woman makes her transformation to becoming a breastfeeding mom.
I invite you to join me on this journey of growth and change and be here to celebrate with me and my fellow IBCLC's in early March.
This New Yorker cartoon was photocopied and sent to me around the time I began my private lactation practice. (Issue unknown)  It still remains very funny after all these years.
Fast forward to today and this highly competitive job market…what if playing the "I was breastfed" card made you stand out in a crowd of applicants?
You could mention how breastfed babies are smarter. In fact, countless studies have shown that breastfeeding not only enhances IQ, but also the health of both the mother and her baby.
In keeping with the growing trend to protect and preserve the environment, being breastfed would mean that adventures in being green began at the start of life.  The carbon footprint would have been minimized by the mothers who breasted exclusively for as long as possible. By extending breastfeeding and judicious use of pumps, those moms would have provided their raw natural resource of breastmilk with minimal environmental impact.
Consuming organic, whole foods early in life, breastfeeding, is aligned with the eco-friendly movements such as sustainable farming and permaculture.
Imagine that…the human resource provided to you by your mother as you were breastfed comes full circle to make you a smart, robust, environmentally conscious candidate for employment!
Conscious Breastfeeding rules!
This photo was taken in Ibuski, Japan. I had sought out this detox spa adventure by the sea, but nonetheless felt stressed by the actual feeling of being beached and helpless. The smile on my face belies the sense of entrapment that I felt buried beneath the hot sand. I calmed myself by focusing on the cool breeze and the occasional ships that I could see in the distance.
This image popped into my mind last night while supporting a mom in baby nurse hell. Ironically, she is at the beach this week with her baby, toddler and "nurse" Ratched.
I felt just about as helpless as I did in my photo listening to her saga of her breastfeeding relationship being continually sabotaged by a superstitious and obstinate baby "nurse". This mom is being followed around and told her baby is hungry and in need of bottles of breastmilk. Icing on the cake would be comments like, "A two-1/2 month old baby should have formed stools." In an email where she is sharing her efforts to observe the patterns of her son and focus on direct breastfeeding, the mom writes, "she [the "nurse"] is annoyed and told me she is getting a headache over this-"
I feel a migraine coming on and a panic attack. Is she kidding? How could this mom and baby ever get in synch with one another with this kind of stress and interference. It doesn't seem to be cost effective on any level to have someone like this around.
I'm about to fly over the cuckoo nest myself if she doesn't take my advice… LOOSE THE "NURSE".
Am I crazy?
Today is the 8′th anniversary of losing my mother, Margaret.
A part of my mom is literally nestled in the Red Rocks of Sedona on the hillside near this famous church designed by Frank Lloyd Wright .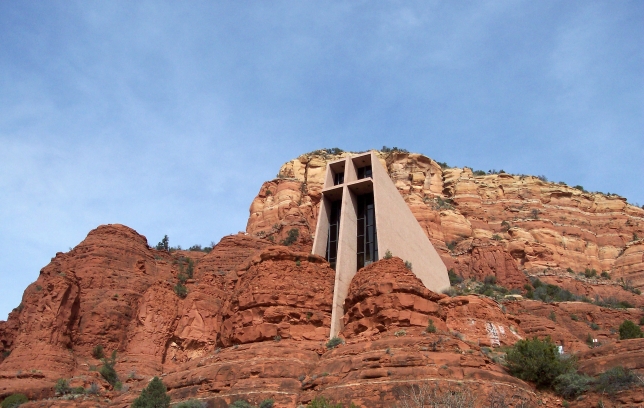 We had spent a magical weekend near here attending a breastfeeding conference in late July 2002. Three weeks later she would be dead.
Mom was my breastfeeding role model and had inspired my passion for helping mothers that led me to become a lactation consultant. She was very proud of having breastfed five children without any support save for the encouragement of my father.
Our last trip to Sedona  had come during a difficult time for mom. She had made the very painful decision to put my father in the assisted living facility that they had agreed upon when she was no longer able to care for him by herself.  Without him as her co-pilot, she had not ventured far from home for several months.   She was having health challenges of her own, but remarked on how liberated she felt to be on the road again.
We were like an inter-generational Thelma and Louise.  Indeed, mom drove us at a fast and furious clip from their home outside Phoenix to Sedona as if she knew her days were numbered.  During that road trip we had a ton of fun and I was able to thank her for being my mother.
Three weeks later, I would be flying back to Arizona to be with her as she left this world. It was a very profound experience that lingers with me to this day.  Both of us were nurses, and now it was my turn to take care of her. Incredibly, as she prepared to let go of this life, she told me to write my book and carry on my work.  I laughed saying, "From your lips to God's ears."
Somehow the gift of that quality time together in those last weeks has sustained me all these years. I did go on to write my book and have continued as a passionate advocate for breastfeeding mothers.
Breastfeeding was the alpha and omega of our mother-daughter connection.  It fostered an even deeper closeness between us as adult women coming full circle in those final moments of her life.
Thank you for breastfeeding me mom…that bond endures in my heart to this day.