Breastfeeding Bonds Endure: In Memorium
Today is the 8′th anniversary of losing my mother, Margaret.
A part of my mom is literally nestled in the Red Rocks of Sedona on the hillside near this famous church designed by Frank Lloyd Wright .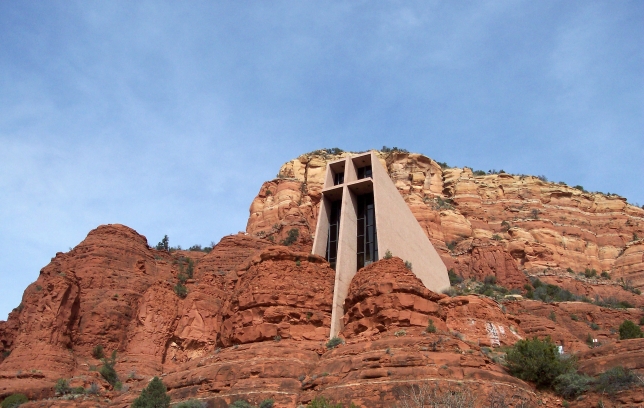 We had spent a magical weekend near here attending a breastfeeding conference in late July 2002. Three weeks later she would be dead.
Mom was my breastfeeding role model and had inspired my passion for helping mothers that led me to become a lactation consultant. She was very proud of having breastfed five children without any support save for the encouragement of my father.
Our last trip to Sedona  had come during a difficult time for mom. She had made the very painful decision to put my father in the assisted living facility that they had agreed upon when she was no longer able to care for him by herself.  Without him as her co-pilot, she had not ventured far from home for several months.   She was having health challenges of her own, but remarked on how liberated she felt to be on the road again.
We were like an inter-generational Thelma and Louise.  Indeed, mom drove us at a fast and furious clip from their home outside Phoenix to Sedona as if she knew her days were numbered.  During that road trip we had a ton of fun and I was able to thank her for being my mother.
Three weeks later, I would be flying back to Arizona to be with her as she left this world. It was a very profound experience that lingers with me to this day.  Both of us were nurses, and now it was my turn to take care of her. Incredibly, as she prepared to let go of this life, she told me to write my book and carry on my work.  I laughed saying, "From your lips to God's ears."
Somehow the gift of that quality time together in those last weeks has sustained me all these years. I did go on to write my book and have continued as a passionate advocate for breastfeeding mothers.
Breastfeeding was the alpha and omega of our mother-daughter connection.  It fostered an even deeper closeness between us as adult women coming full circle in those final moments of her life.
Thank you for breastfeeding me mom…that bond endures in my heart to this day.